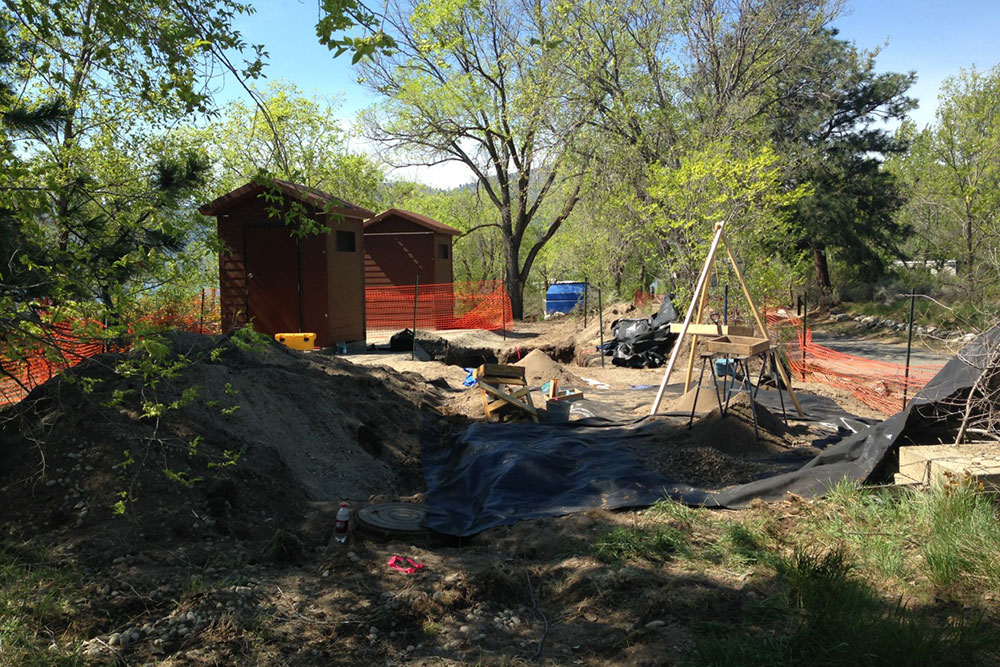 Crossroads was deeply humbled to be involved in a recent archaeology project with the Osoyoos Indian Band. On April 30, the band's Lands Directorate made a phone call to our senior archaeologist Meghan Fisher, asking her to "Come take a look at some bones…"
An archaeology site had been uncovered at Haynes Point Provincial Park, a popular camping spot in the Okanagan, while upgrading toilets. The band's immediate response to involve Crossroads CRM turned this unfortunate situation into an opportunity for the band to assert its position with respect to the ancestors buried there and ensure proper cultural protocols were undertaken, with the project overseen by its staff. Crossroads CRM worked with Ursus Heritage Consulting (who held the archaeology permit) to undertake the archaeology, in collaboration with the Osoyoos Indian Band and BC Parks.
The project was a true success due to the amazingly dedicated crew from the Osoyoos Indian Band that also included community members from Penticton Indian Band, Lower Similkameen Indian Band and the Westbank First Nation. It was a great honour that we were asked to lead this project by the Osoyoos Indian Band, and it is with a deep sense of humility that we participated in this role. The outhouses have been permanently removed from the burial location and on May 30 the ancestor was reburied in his original location with the cultural protocols and respect of a humble Okanagan ceremony.
The Osoyoos Indian Band and BC Parks have since entered into an agreement to ensure the long-term protection and management of any Osoyoos cultural heritage sites within Haynes Point Provincial Park, which falls within the band's traditional territory. Learn more about this agreement here.